Avenida de los Pinos 6th & 7th floor, 30009 Murcia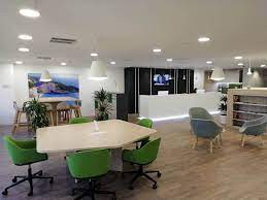 Find a quiet business environment with excellent connectivity in this peaceful residential area of Murcia. You can easily commute to our impressive offices at Avenida de los Pinos 7, which are conveniently located close to bus stops and train stations and come with on-site parking.
Be inspired by the building's striking black glass façade before working productively in bright, spacious workspaces with large windows.
General Info/Accessibility
Who can use the co-working space?: Freelancers, Businesses
How many available workstations does the co-working space have?: 11-20
Is the co-working space near: Metro station
Is car-parking stations near the co-working space?: Yes
Is the co-working space accessible by disabled people?: Yes
Does the co-working space offer 24/7 access to its premises & facilities?: Yes
What is the pricing model of the co-working space?: Monthly fee
Offered Facilities/Amenities/Services
Hot desks (non-dedicated desks): Yes
Teleconferencing rooms / equipment: Yes
Printing and scanning facilities: Yes
Professional mailing address: Yes
Switchboard / Phone answering service: Yes
Fire security system: Yes